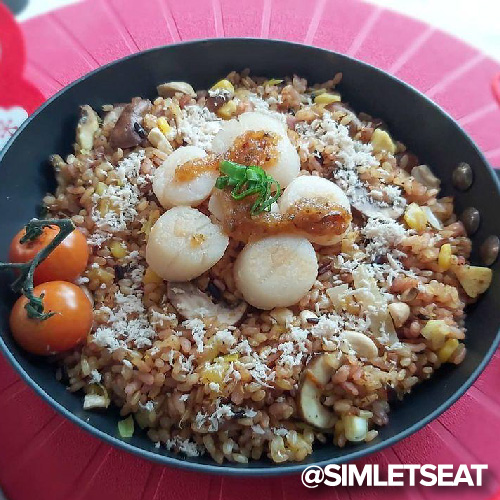 Sambalicious Pineapple Fried Rice with Scallops
Ingredients
1 chopped spring onion (white part)

Some chopped onions

Some sliced ginger

2 stalks of pounded lemon grass

1 chopped garlic


1.5 cups of cooked

rice

1/2 tsp turmeric powder


1/2 tsp scallop powder

2 tbs of pineapple reduction puree


1 tbs of mild manners tomato sambal sauce

5-6 scallops

Some chopped mushrooms

Some corn

Some butter


Some pork floss

Some chopped spring onions (optional)

Steps
Pan sear the scallops with butter and set aside.

Boil a pineapple under medium heat until caramelised.

Blend it into a puree.

Cook rice.

Fry the aromatics with a little oil till fragrant.


Add in chopped mushrooms and

Add the rice and mix well.

Add the scallop powder, sambal sauce and pineapple puree.

Give it a good mix.

Place scallops on top of rice. Top with more pineapple sambal sauce if desired.

Sprinkle pork floss, spring onions and serve.

Enjoy up to 90% off retail prices on your groceries by group buying with us! Click the above button to join us today.